It's been awhile since I've written on my blog. I have so much to tell. I have done a ton of shows and sold many paintings. Early this year I sold a large painting at Arabesque. Lucy the owner and chef is wonderful. The food is awesome and always fresh. I returned later in the year to show again at Arabesque and sold another 3 paintings.

I tell Lucy she's my lucky charm. I have a real soft spot for her, she has gone out of her way to help me and I will be forever grateful. These are two of the paintings I sold at her restaurant. The green tree is called "Soul" and the red trees are called "Asunder".
Her restaurant is located on 43 Maple Ave., Barrie, Ontario.
Next I was off to show at the Barrie Country Club. It is a beautiful venue and I'm returning there for another show in January 2011.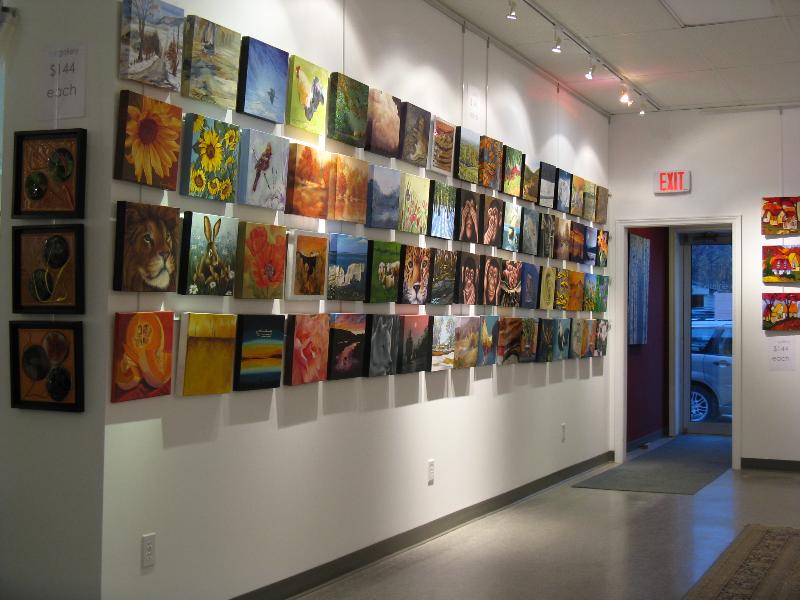 In April, May and November I was up at the Loft Gallery. These will be annual events for me. They have asked me to book off these shows so I can come up to help and attend the openings. Very cool. Debra Lynn Carroll is the resident artist there. She is wonderful and fun to work with. Phil McCormack is Debra's husband and sells the paintings in the gallery. I look forward to the spring Square Foot Show in 2011. The Loft Gallery is located at 183 Marsh St., Clarksburg, Ontario.
In June I was apart of a new show called "The Barrie Spring Art Tour". We created banners that hung on the lamp posts in downtown Barrie. They also had a People's Choice Award for the best banner. I placed second for this award.The show went really well and I will be attending again in 2011. I've also joined a committee to oversee the website.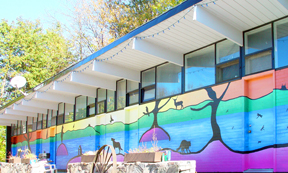 In August I started painting the largest piece I've ever had the opportunity to produce. I'm very proud of my accomplishment. It's huge! 800 square feet. The style is painted with my "Black Trees".
It took me 4 weeks to complete. I had six hours of volunteer help. My husband and I stayed on the property in my trailer while I completed the project. It was great fun. I miss being there. The property has 60 partially wooded acres and Willow creek runs through the left hand side. It's so beautiful there I didn't want to go home when it was done. The owner of the property is Tamare Whitewolf. Who has now become a great friend to me and my family. She makes me laugh and I love to spend time with her. The building I painted was an old motel that she rents out now as apartments. The mural can be seen at 461 Penetanguishene Rd. Barrie, On. She also has a gift shop on the property where you might find some of my images for sale. Here is an image of what I painted and a video documentation.
I named the piece "Isle of View".
Throughout the year I've been represented at the Art Appreciation Gallery on 20 Bell Farm Rd. Barrie Ontario. 705-722-6001.
On November 14, the annual "Autumn Art Show" was held there for all the artists represented by the gallery. We had an internationally renowned artist Brent Townsend
attend the exhibit. The show had an awesome turn out. I'm very happy I was in attendance as well. I hope to see you all there next year.
The big show of the year is the show I'm currently in, at the John.B. Aird Gallery in Toronto. I have already had some inquiries for a painting hanging there. The reception went on without a hitch. There were a lot of people and great food. "Fragile Spaces" is the theme of the show. The Aird gallery is located 900 Bay St. Macdonald block, Toronto, On. The show runs until January 7th. 2011.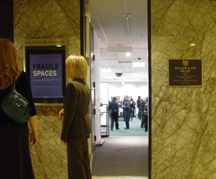 All in all 2010 has been a great year with many new endeavors
and many new friends. I hope 2011 will be just as great.
Happy New Years everyone.
The year 2010...Out there

,